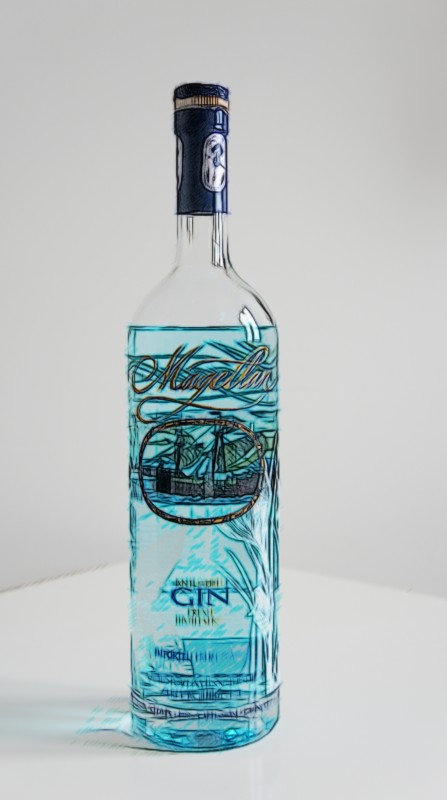 Quand on y pense, sans les explorateurs des XVème et XVIème siècles qui nous ont rapporté baies et épices du monde entier, le gin n'aurait peut-être pas connu cet essor.
Magellan
était de ces navigateurs, et il existe à présent un gin pour lui rendre hommage.

Magellan Gin
est le fruit de 2 hommes, 2 passionnés de gin, l'un avait une idée fixe, l'autre lui a trouvé les solutions. Le premier,
Michel Roux
est notamment le créateur du
Bombay Sapphire
au milieu des années 80. Il a depuis contribué à de nombreux autres produits, et je vous conseille le très bel article sur Michel Roux paru dans le n°1 de Cocktails Spirits Magazine.
cf. ici la présentation
).
La seconde personne est
Alexandre Gabriel
, le président des
Cognacs Ferrand
. Cette maison charentaise produit les gin
Citadelle
et
Citadelle Réserve
(retrouvez leurs présentations
ici
et
ici
).
Michel Roux a une idée fixe. Il veut, en plus d'un goût particulier, que son gin soit bleu, et pas la bouteille comme Bombay Sapphire, non c'est le liquide qui doit être coloré. Mais se pose un problème de stabilité de la couleur qui dans l'alcool se fane avec le temps.
Ensemble, ils ont donc mis au point une recette unique pour y arriver.
Les botaniques une fois récoltées sont mises à sécher au soleil pour préserver les arômes. Elles sont ensuite emballées dans un tissus spécial  et plongées dans le distillat neutre. Ce dernier a subi 3 distillations auparavant et seule la quatrième se fait en présence des botaniques.
Enfin, le gin est infusé avec des racines et des fleurs d'iris ce qui lui confère cette couleur bleue naturelle.
L'Iris infusée apporte également des notes plus nettes, plus florales en dégustation.
Les botaniques utilisées proviennent du monde entier, comme pour mieux rendre hommage aux voyages de Magellan : Baies de Genièvre, Clou de Girofle, Racine et Fleur d'Iris, Cannelle, Cassia, Écorce d'Orange, Coriandre, Réglisse, Noix de Muscade, Graine de Paradis, Cardamome.
DÉGUSTATION.
Le premier nez est finement épicé et légèrement terreux. Il évolue vers des notes plus florales. Il est assez expressif tout en étant bien équilibré.
En bouche, le premier touché avec la langue est un peu sucré puis une évolution vers l'amer s'opère. C'est complexe, là aussi l'équilibre entre les différentes botaniques est très bien exécuté.
Une excellente longueur en bouche qui fait perdurer la légère touche d'amertume avec des notes florales en rétro olfaction.
Magellan Gin est un produit original, possédant une personnalité propre. Sa couleur azur sera également un élément différenciant dans l'élaboration de vos cocktails. Il est temps de partir à l'aventure.
What would gin be without the explorers of the fifteenth and sixteenth century ? Perhaps, It wouldn't be so well-known. Magellan is one of those navigators, now there is a gin named after him in his honor.
.
Magellan Gin is the result of the work of two men, two gin lovers. The first is Michel Roux, he is famous for creating Bombay Sapphire in the middle of 1980s. He has contributed to launching of several products is the US and I recommend a great article about him published in Cocktails Spirits Magazine #1 (see a video presentation here).
.
The second person is Alexandre Gabriel, CEO of Cognac Ferrand. This firm produces gin Citadelle and Citadelle Reserve (see reviews here & here).
.
Michel Roux had an obsession, he wanted blue gin, in addition to a particular taste, unlike Bombay Sapphire whose bottle is blue, the liquid had to be blue.
.
Together, they developed a unique recipe to succeed.
Botanicals are picked and immediately sun dried to ensure preservation of flavor.
Wrapped in a special cloth, they are added to the neutral spirit and immediately redistilled a fourth time. The first three distillations are made only with caper wheat (a rich wheat grain from the Beauce valley) and water.
Finally, Magellan Gin is infused with natural Iris root and flower which gives it its unique blue color.
.
Eleven botanicals from all over the world pay tribute to Magellan's journeys: Juniper Berries, Cloves, Iris Root and Flower, Cinnamon, Cassia, Orange Peel, Coriander, Licorice, Nutmeg, Grains of Paradise, Cardamom.
.
TASTE.
The first smell is delicately spiced with a touch of bitterness. Then, it turns more floral. It is expressive but very well balanced.
In the mouth, the first taste is quite sweet but quickly turns bitter. Complex, well balanced between different botanicals, it has a very good length with floral notes a few seconds later.
.
Magellan Gin is an original product, with a real personality. The blue color will be a differentiating element in cocktails elaboration. It's time to go on a journey.
& pour rester dans l'esprit :