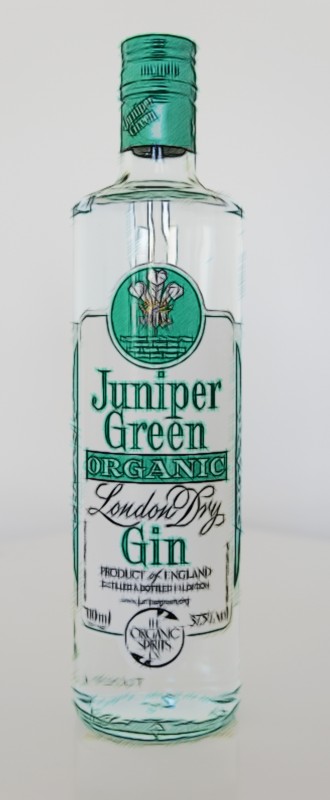 «
J'étais tranquille j'étais pénard
« , je n'étais pas accoudé au flipper mais simplement en train de me balader dans les rayons d'un magasin Bio quand je suis tombé sur
Juniper Green
. 'London Dry Gin', 'Distilled & Bottled in London', '37,5%', bon allez on tente ?
Voici un autre gin distillé et embouteillé à Londres. Il va vraiment falloir que je retourne dans cette ville me faire la tourner des distilleries ! Quelques petites recherches m'ont permis de découvrir que nous devons ce gin au Master Distiller et Directeur général Charles Maxwell, descendant d'une famille de distillateurs depuis le XVIIème siècle.
Juniper Green est élaboré dans la Thames Distillery dans le quartier de Clapham dans le sud de Londres ; elle est sûrement l'une des plus petites d'Angleterre. Cette distillerie possède 2 alambics surnommés 'Tom Thumb' et 'Thumbelina' pour leur taille anormalement petite.
5 botaniques sont utilisées : Baies de genièvre, Seigle, Coriandre, Sarriette, et Angélique.  Et inutile de dire qu'elles sont toutes produites de manière Bio. Le blé servant à la constitution de l'alcool neutre est lui aussi bio.
DÉGUSTATION.
Les premières sensations présentent des notes herbacées et de genièvre. Le côté épicé est peu présent. Bien que titrant 37,5%, l'attaque est vive, légèrement agressive avec des pointes d'Angélique. L'ambiance herbacée et le genièvre restent cependant en trame de fond jusqu'à la finale qui disparaît relativement rapidement.
Le degré d'alcool ne lui permet pas de pouvoir s'exprimer pleinement et il risque très certainement de se faire dépasser par les autres ingrédients quand il sera mixé.
Juniper Green reste loin devant les gins moyens que l'on a pu croiser dans les rayons des supermarchés ; c'est donc un gin pour les aficionados du Bio recherchant un gin pas trop expressif. Les amateurs de gin trouveront leur bonheur ailleurs, mais d'autres gins bio existent sûrement, il ne me reste plus qu'à partir à leur recherche.
I was walking between the shelves in a Bio supermarket when I found Juniper Green. 'London Dry Gin', 'Distilled & Bottled in London', '37,5%', Let's go, I thought it.
.
Here is another gin distilled in London. It is really necessary that I return to this city to visit these distilleries! After a little research, I found that this gin was created by Master Distiller and Managing Director Charles Maxwell, a descendant of a distiller family since the seventeenth century.
.
Juniper Green is developed at the Thames Distillery near Clapham in south London, which is probably one of the smallest distilleries in England. It has two stills nicknamed 'Tom Thumb' and 'Thumbelina' abnormally small for their size.
5 botanicals are used: Juniper berries, Rye, Coriander, Savory, and Angelique. Needless to say, all are produced in a Bio manner.
.
TASTING.
The first sensations present herbaceous and juniper notes. Although grading 37.5%, the attack is lively, slightly aggressive with peaks of Angelica. The herbaceous atmosphere and the juniper are present till the final, which disappears quite quickly.
The alcohol degree does not allow to be fully expressive, and it may certainly be overtaken by the other ingredients when it is mixed.
.
Juniper Green is still far ahead middle-range gins that you could buy, so it is a gin for Bio aficionados seeking a gin not too expressive. Gin lovers find happiness elsewhere, but other organic gins exist, now I should look for them.
& pour rester dans l'esprit :