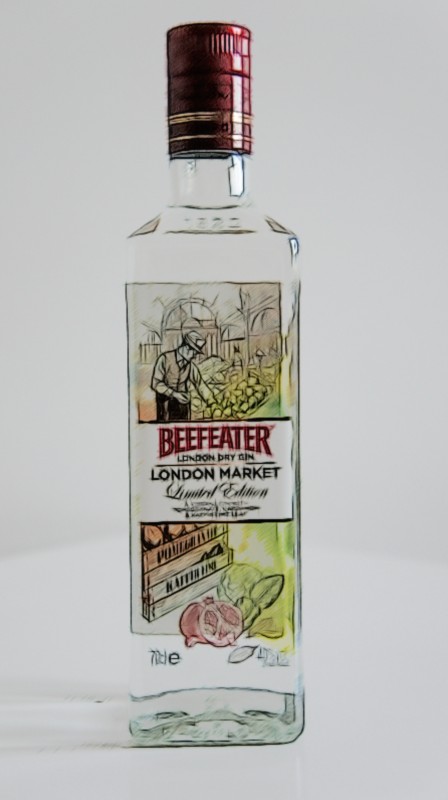 Après s'être amusé avec
Beefeater Summer Edition
et
Beefeater Winter Edition
,
Desmond Payne
est revenu avec une nouvelle création qui rend hommage à l'histoire de la marque.
Beefeater London Market
symbolise ce lien fort unissant cette marque de gin et la capitale anglaise.
Et plus précisément entre le fondateur de Beefeater, James Burrough, et le marché de Covent Garden. A cette époque, se procurer des botaniques exotiques n'était pas chose aisée ; le marché de Covent Garden de Londres était ce lieu de 'pèlerinage' pour tous les gourmets de l'époque… et les master distillers !
Desmond Payne trouva au sein de ce célèbre marché de nouveaux ingrédients à ajouter à la recette originale, des graines de grenade, des Cumbava et de la Cardamome. La volonté du Master Distiller était d'apporter une inspiration nouvelle au gin via une coloration d'arômes évoquant les senteurs des marchés d'été.
DÉGUSTATION.
On retrouve la grenade au palais, apportant des notes fraiches, fruitées et très parfumées. Le combava vient adoucir ces touches d'agrumes déjà bien présentes dans le Beefeater original. La cardamome offre des pointes plus épicées mais douces, un peu comme un poivre des îles. On la récent plus en final, qui est d'ailleurs d'une très belle longueur. Nous avons donc un très bel équilibre entre ces notes originales et estivales et la trame classique genièvre/agrume typique de Beefeater.
Cette nouvelle interprétation de Beefeater se présente fièrement pour accompagner les barmen. Que cela soit en short drinks ou en punch, Beefeater London Market nous titille l'imagination avec délectation.
Ce cinquième épisode vient conclure la présentation de cette belle maison qu'est Beefeater. Ces dernières années ont été riches en nouveautés, en expérimentations, mais sans jamais renier sa philosophie, 'Juniper First'.
Elle prouve aussi que le gin est réellement plein de vitalité, il suffit juste de lui donner la parole pour qu'il s'exprime avec subtilité et modernité.
Longue vie au gin ! On oublie parfois de le redire !
After playing with Beefeater Summer Edition and Beefeater Winter Edition, Desmond Payne has gone on the Beefeater founder's footsteps to pay a tribute to the history of the brand. Beefeater London Market symbolizes the strong link between this gin brand and the British capital.
.
In the XIXth century, James Burrough, Beefeater founder, didn't have much choice to find his exotic botanicals. Covent Garden in London was the only place.
This new Limited Edition uses new ingredients to add to the original recipe available in this famous British market.
Desmond Payne plays with Pomegranate seeds, Kaffir lime and Cardamom. His aim is to create a spirits which brings a new gin inspiration with summer market flavour.
.
TASTE.
The pomegranate is felt in the palate with its fresh, fruity and aromatic notes. The kaffir lime moderates citrus notes already present in the Beefeater original recipe. The cardamom gives spicy but soft notes to the taste. Beefeater London Market conjugates perfectly these new original & summer touch and the classic frame (genever/citrus) of Beefeater original.
.
This new version of Beefeater is also perfect to mix in cocktails. Try it in short drinks or in punches, Beefeater London Market tickles our imagination with delight.
.
The fifth and last episode concludes the review of this wonderful distillery. These last few years were rich in new products, in new experimentation, but they never lost sight of the house philosophy: 'Juniper First'.
Beefeater proves that gin is still vigorous. Let it talk, and it will, with subtlety and modernity.
Long life to Gin! We sometimes forget to repeat it!
& pour rester dans l'esprit :