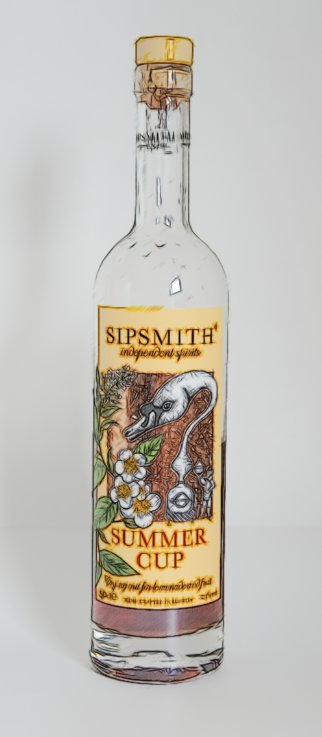 Pour célébrer l'ouverture des
J.O.
aujourd'hui, quoi de mieux que de présenter un
Gin
anglais ! Mais il s'agit d'un gin spécial. En Grande Bretagne, l'été rime avec '
Summer Cup
', une boisson extrêmement populaire de l'autre côté de la Manche.
Pour rendre un hommage national à cette tradition, je parle des 'cups', pas de la Reine, la distillerie londonienne Sipsmith a décidé de sortir sa version. Qui a dit que les anglais n'avait aucun goût ?!
Si pour nous français le 'Summer Cup' ne nous parle pas beaucoup, je pense que si je vous dis Pimms, vous voyez au moins la bouteille même si vous n'avez jamais compris à quoi cela servait.
C'est en fait la base d'un vieux cocktail apparu au XIXème et dégusté lors des événements estivaux chics en Angleterre. Une présentation du dit cocktail est à retrouver mercredi prochain.
Alors 'Summer Cup' par Sipsmith c'est quoi ?
C'est une bouteille de 50cl. composé avant tout de Gin Sipsmith et assemblé avec de nombreux autres ingrédients notamment du Thé Earl Grey, de la verveine de Citron et du Concombre.
DÉGUSTATION.
Le nez est un riche mix entre la rondeur de l'orange, la fraîcheur du concombre, une délicate pointe douce-amer amenée par le thé et la senteur sèche de la cannelle.
En bouche, les baies de genièvre sont assez peu présentes. Ce sont les des notes aromatiques d'épices et d'agrumes qui mènent la danse. La longueur en bouche est légèrement sèche mais généreuse. 'Summer Cup' offre une grande palette de saveur et apporte donc une vraie originalité en bouche.
Sipsmith revendique une indépendance d'esprit et une volonté de produire des spiritueux de façon artisanale. 'Summer Cup' est une nouvelle fois un parfait exemple de ce travail de très grande qualité. Sipsmith a réussi en moins de 3 ans a redonné une âme à cette distillerie du Hammersmith avec beaucoup de brio. On a hâte de découvrir la suite !
Et bon J.O. à tous !
To celebrate the opening of the Olympics games today, I decided to introduce an English Gin, but a special Gin! Indeed, for the British, Summer rhymes with 'Summer Cup', an extremely popular drink on the other side of the Channel. So, to celebrate this tradition, I mean 'cups', not the Queen, the London distillery Sipsmith has decided to launch its version. Who said the British had no taste?
.
'Summer Cup' is totally unknown in France. If I talk about 'Pimms', we see the bottle but we have no idea about what it is used for. Actually, this is the basis of an old, XIXth century cocktail, which was drunk during elegant Summer events.
.
So, what is 'Summer Cup' by Sipsmith Gin?
It is a 50 cl drink composed by Sipsmith, of course, and assembled with many other ingredients including Earl Grey tea, verbena lemon and cucumber.
.
TASTE
The nose is a rich mix of the roundness of orange, the freshness of cucumber, and the delicate bitter sweetness brought by the tea and the dry scent of cinnamon.
In the mouth, juniper berries are not very present. It is the aromatic notes of spices and citrus which run the show. The long finish is slightly dry but generous. Summer Cup offers a wide range of flavours , and tastes really original.
.
Sipsmith claims an independence of mind and a willingness to produce handcraft spirits. 'Summer Cup' is a perfect example of their high quality work. It has taken Sipsmith less than three years to succeed and to brilliantly give a soul to that distillery located in Hammersmith. We cannot wait to discover the next drink!
& pour rester dans l'esprit :